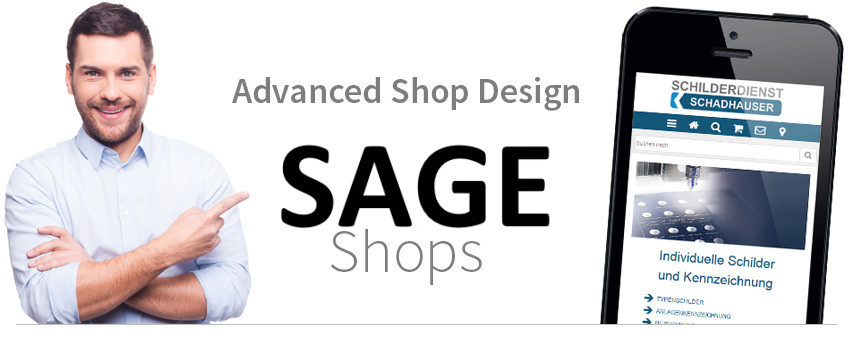 New design concept or Design Extras
You operate a Sage 50 Shop by epages and wish to customize the design and information presentation to suit your and your customers' requirements.
In addition to creating a partially or completely new customer-oriented web design and content structure, you can also apply for the creation and integration of special design elements and extras for your existing SAGE online shop. The installation of a new design concept or design elements takes place without any impairment of your online shop.
Shop Examples
Get inspired by this examples:
Shop owner Ing. Andreas Rall: "The shop has become a first-class masterpiece"
More information...

Bernhard Hermanns, sales manager at Lotus: "We searched for a long time for such an experienced and creative epages partner and finally found him" More information....

Shop owner Martin Zinger: "Our shop now finally appears in a professional and great design" More information...

Online Shop for signs and labeling with tablet and smartphone optimization. More information...
More epages shop references...
Examples of design service
Some design service examples and design gadgets for your SAGE online store
Perfectly adapted for tablets and smartphones
You can also have your SAGE online shop optimized for tablets and smartphones.
Simple, Fast, Safe:
Exemplary content maintenance despite sophisticated design
The shop should look modern through a sophisticated design and attract customers with many meaningful functions. And yet it should be easy to maintain and require no technical knowledge.
Thus, all design adjustments are achieved via the normal epages templates or with individual content design or extra functions only the commands available via the editor (such as headings, inserted pictures, bullet lists, etc.) are reached. This not only makes content maintenance easy and fast, but also safe and preserves the design adjustments from "accidents. Because all customizations designed for the sophisticated design are installed outside the editor or other user-accessible areas.
Manual
An individually designed handbook with illustrations about the built-in functions and design adjustments simplifies shop maintenance, even for new employees. It mentions image sizes, the maintenance of sliders, content and design elements, so that your shop can be maintained anytime and by any employee.
Online Shops
with Advanced
epages Design